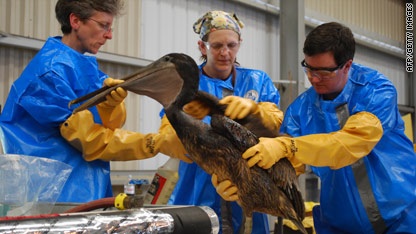 Can't go down to the Gulf Coast to help out with oil spill cleanup? Here are some ways you can be an armchair volunteer following the worst oil disaster in U.S. history.
Adopt a pelican
It is heart-wrenching to watch birds drenched with oil. 
The International Bird Rescue Research Center
, which picks up oiled birds, cleans and rehabilitates them, is asking for support for its 23-member team of bird-rescue experts. The organization allows individuals to donate or adopt a bird. Adopting a pelican, for example, costs $200, which will go to the cost of raising and eventually releasing the bird. The organization's team is working with the Tri-State Bird Rescue, setting up rehabilitation centers in Louisiana, Alabama and Florida. Birds that are cleaned –
it takes almost an hour to clean a single oiled pelican
– and rehabilitated are then released in oil-free areas chosen by federal and state trustee agency personnel and the International Bird Rescue Research Center. 
The Tri-State Bird Rescue
is also taking donations and adoptions.
Donate to help fishermen and the Louisiana seafood industry
Protectourcoastline.org
is asking for donations to help families and businesses in the Gulf most affected by the disaster. With more than 30 percent of the waters closed to fishing, the site claims that a good portion of the fishing industry will be affected. All donations will go to the Louisiana Wildlife and Fisheries Foundation, in partnership with the Louisiana Seafood Board, and the America's WETLAND Foundation, which heads the "Campaign to Save Coastal Louisiana" project.
Write a letter
Donations aside, the 
Audubon Action Center
is asking for people to write to their senators and members of Congress to support President Obama's proposed 2011 budget, which includes $35.6 million for larger coastal restoration projects. The site has a suggested letter that can be edited and sent out. Part of it states: "We have an opportunity to create jobs, work to mitigate the impacts of this tragic oil spill, and again rebuild the critical coastal marshlands that nurture a significant Gulf of Mexico fishing industry, and buffer the Louisiana coast and its communities from storms and other threats."
Read more at CNN